Bio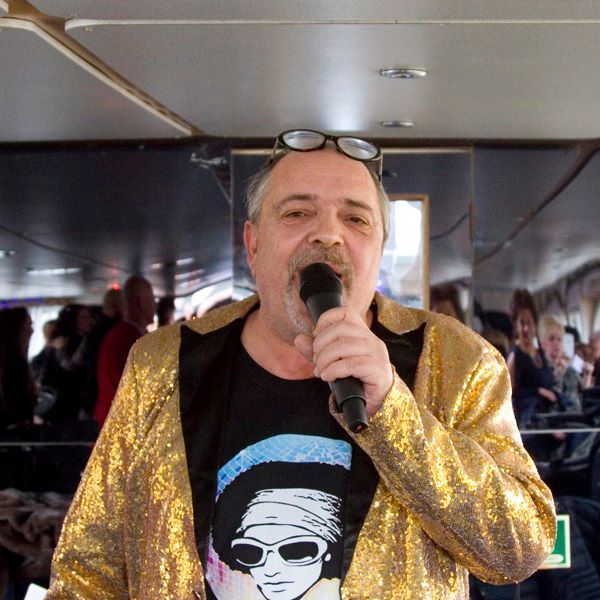 The Story of Gary VdB and Disco Soul Gold
Now & Back then
Currently:
Broadcasting on Starpoint Radio weekdays Monday to Friday 11 am - 1 pm (GMT). My daily DSG shows include Birthday's, Hot new releases, Classic's, Remixes, Edits, interviews with the stars & The Lunchtime Sandwich which is two/three tracks by a certain artist that are never the most obvious by that artist or group.
The DSG Music label has achieved much success, Listen by SouLutions was voted by many as being the Soul Track of 2014 and Ola Onabule Soul Town also achieving #1 on Soul and Amazon UK Sales charts, The Nigel Lowis remixed and produced CD Vol 1 & 2 have been Soul #1 best sellers, also the UK Soul Chart CD. Look out for the Nigel Lowis 12 inch collection album due soon.
DSG radio promotions is where we promote your tracks to our team of DJ's to get airplay in which in turn should turn to sales and chart positions. We have had a good run of number #1's which include recent tracks by Elusiv, SouLutions, Miles Davis ft Randy Hall, Regi Myrex, Kenny Thomas, Georgie B, Marc Staggers and many others.
Our Disco Soul Gold Facebook has grown to almost 240,000 likes and we have a Disco Soul Group also, last year we did our first DSG Cruises and looking to do a 3rd one next year. Our Facebook page called, Disco, Soul, Gold has grown to almost 240,000 likes and we have a Disco Soul Group also, last year we did our first DSG Cruises and looking to do a 3rd one next year. 
The Early years 
---------------------
At the young age of around 9, I started collecting records, even at school my love of Soul music was obvious, my DJ influences were, Greg Edwards ( I did try to copy his accent, ha), Peter Young & Robbie Vincent.
It was always my dream to run a record shop, well at only 17, I managed a record shop beneath a book shop called, Baker Street records in London's west end, with regular clients such as, Edwin Starr, Paul Weller, Randy Crawford, Neil Francis, Leo Sayer, Peter Sellers & Fitz Brown.
Fitz Brown gave me the chance of an a opening to DJ at one of the worlds most respected celebrate clubs, Tramp Nightclub in Jermyn Street. I got to DJ & do private parties for the likes of, Tony Curtis, The Stones, Rod Stewart, Joan Collins, Georgie Best, Royalty, Tony Hall, Mel Brooks, in fact everybody who was anybody. It was fun seeing the likes of, Mick Jagger, Sheila Ferguson, Bruce Forseyth dance to your music...
After The Record shop closed down, I moved on to plugging records, I received a #1 with Phyllis Nelson, Move Closer, Amii Stewart, Knock on Wood & many others. working in the day doing this while, DJ-Ing at night.
Tony Monson gave me a spot on Solar Radio which I was so pleased with, I normally did this after spinning at Tramp. James Hamilton (Record Mirror) gave me great reviews for my first three Solar Radio shows. At the time Solar was a pirate.
Ater a few years I left tramp to open my own clubs after working in various other venues around the south. Club Musique - Croydon, Sunset- Maidstone, Samantha's -Regent Street, Piccadilly theatre- y supporting, The Foundations for three weeks. I worked in Maidstone's club The Sunset, which I had organised special guests like, Jimmy Ruffin ,Cool Notes, Direct Drive, Precious Wilson and many others. I was approached to spin at at their Under 18's night, my first thoughts were no I can't do this, but I did & but the second week, we were turning away 100's of teenagers every week. Inside the club it was so full they were passing out, the manager of the club, told the owner that we were empty. So i got fired!
Two weeks later I opened my own club across the road in Maidstones Kent Hall & built up a large data base of over 100,000 members with over 500 teens attending. From this success we opened every night at venue's around the South, Orpington, Gravesend, Ashford, Cheam, Weybridge, Town & Country London, plus many others. We had regular guest such as, Tim Westwood, BB&Q band, Take That, David Grant, Silver Bullet, in fact most who had hit records released.
I met Noah Johnson through the teen nights & he introduced me to the recording studio, plus taught me how to write & produce songs. My first record release was, Young Free & Single under Dee Gee( Disco Gary), it reached #1 on John Leeches show & I had offers poring in for a record deal, first label closed down before pressings started, then Upfront Records signed it promoted it & closed down.
So I dusted myself off & started Wizz Records, the first three releases were done with Dave Morgan of Fresh Records (Love Station, Strike fame), we were on the way, 5 dancing men, cool cuts, radio one plays, club hits in fact around 30 with various releases. At the same time I had our own Distribution company called Empire, which started with me in a car, being given records by Nigel Reveller & Barnard fanning. I was driving around the south creating the Buzz with these & my own white labels. Soon other labels gave us theirs to sell, then we expanded to further vans & telesales.
I then had a career change bought a Free House Pub in Hever which my x wife and growing children ran with us, but it was non stop cooking, pouring drinks, but did get rewarded as I taught myself to become a chef and soon got a OK magazine food spread with Hale & Pace, we sold the Pub and with bought a restaurant which we grew to a chain and were on the verge of selling the successful chain , but it was not meant to be as our personal lives changed. After this I trained as a Hypnotherapist, but my love has always been music, so after a short break went back to it and started DSG.. 
SouLutions were discovered by myself. We heard a demo of Listen which had sat in a draw for 8 years, before I arranged to have it remixed and released.   Louise Mehan to me has the greatest female Soul voice ever, every time she sings it sets a tingle. 
Louise together with Steve Lee they have developed their own modern Soul signature sound as songwriters / producers.